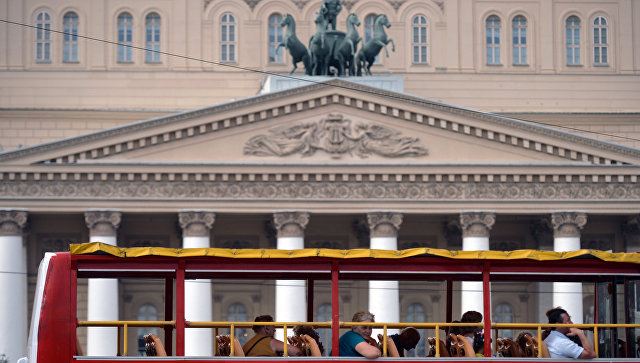 © RIA Novosti. Evgeny Odinokov
MOSCOW, Oct. 3 – RIA Novosti/Prime. Ten thousand foreign tourists visited Moscow and Saint Petersburg from Mai to August 2016 using tourist card Russia CityPass, said the director of Russia CityPass Alexander Mityaev to the media on the card's presentation.
«We sold ten thousand cards from Mai to August, 90% of customers come from the Western Europe: Great Britain, Germany, France, aged 35-45 years old»,- announced Mityaev and added, that the pass is very popular among tourist from China as well. More than 1,5 thousand cards were bought by citizens of this country.
The head of the Department of the national policy, international connections and tourism of Moscow Vladimir Chernikov mentioned, that this card has a lot of development potential in the Russian capital. «There are more than 400 museums, 40 of them are available with the Moscow CityPass. There are development prospects in the capital»,- he said. Mityaev mentioned that the card holders can visit Tretyakov gallery, Kremlin's museums, take a boat tour along the Moskva river, explore the city by foot, taking part in different excursions, or by a double-decker bus. The Russia CityPass adds «Aeroexpress» to their system starting the next week, and after that the Moscow Metro will be added.
«We work with Russia CityPass since the beginning of 2016. The number of tourists who use this card grows from quarter to quarter. Only ten percent of our visitors are foreign tourists. We are interested in promoting our museum to foreign travelers»,- said the general director of the State Tretyakov Gallery Zelphira Tregulova.
The deputy head of the Federal Agency for Tourism of the Russian Federation Alexey Konyushkov mentioned, that the Russia CityPass is now available only in Moscow and Saint Petersburg. The Agency planes to promote the project in other regions. «The first region for the future development is the Kaliningrad Oblast... Moreover, there is a colossal demand for the touristic objects in the Far East», - he said. The president of the Russian Union of Tourism Industry Sergey Shpilko in his turn alleged new opportunities not only for tourists but also for tourism industry, as it significantly simplifies the package tours formations for touristic companies.
Russia CityPass is an international standard of tourist cards that are very popular in many historical and cultural centers of the world. The active development of CityPass in Russia happened this year. The price for the pass is 2,2 thousand rubles for 24 hours. The card is available in Visa Centers of the Russian Federation, on the website and in different pick up areas.